Watch the video below to know more details about Baldr Pro R
Baldr Pro R: Magnetic Charging WML for Short and Long Setups
✔ Leading Performance:
The Baldr Po has leading performance and is able to cope with challenging tasks, whose mas performance is 1350 lumens and the longest distance is 200 meters.
✔ Accuracy with Ease:
Integrated GL beam (<5mW) for quick and accurate aiming day or night. The GL beam emitter is integrated into the head of the light. This design leaves room for the charging port on the bottom of the light and supports a remote pressure switch.
✔ Mode Selector Ring:
The selector ring around the head allows you to easily choose between white light only, white light & GL beam combo or GL beam only.
✔ Easy Magnetic Charging:
Powered by a 3.6V 1000mAh lithium polymer battery that can be recharged via the magnetic charging cable, this WML runs up to 93 minutes after being fully charged.
✔An Option for Long Setups:
The Baldr Pro R includes two types of rail adapters to fit both Glock and Picatinny rails.
✔ Quick Install System:
With the quick-install system, you can easily attach and detach the light to your self-defense setups. The well-tested adjustable screws allow for easy zeroing and can withstand strong impacts without loosening.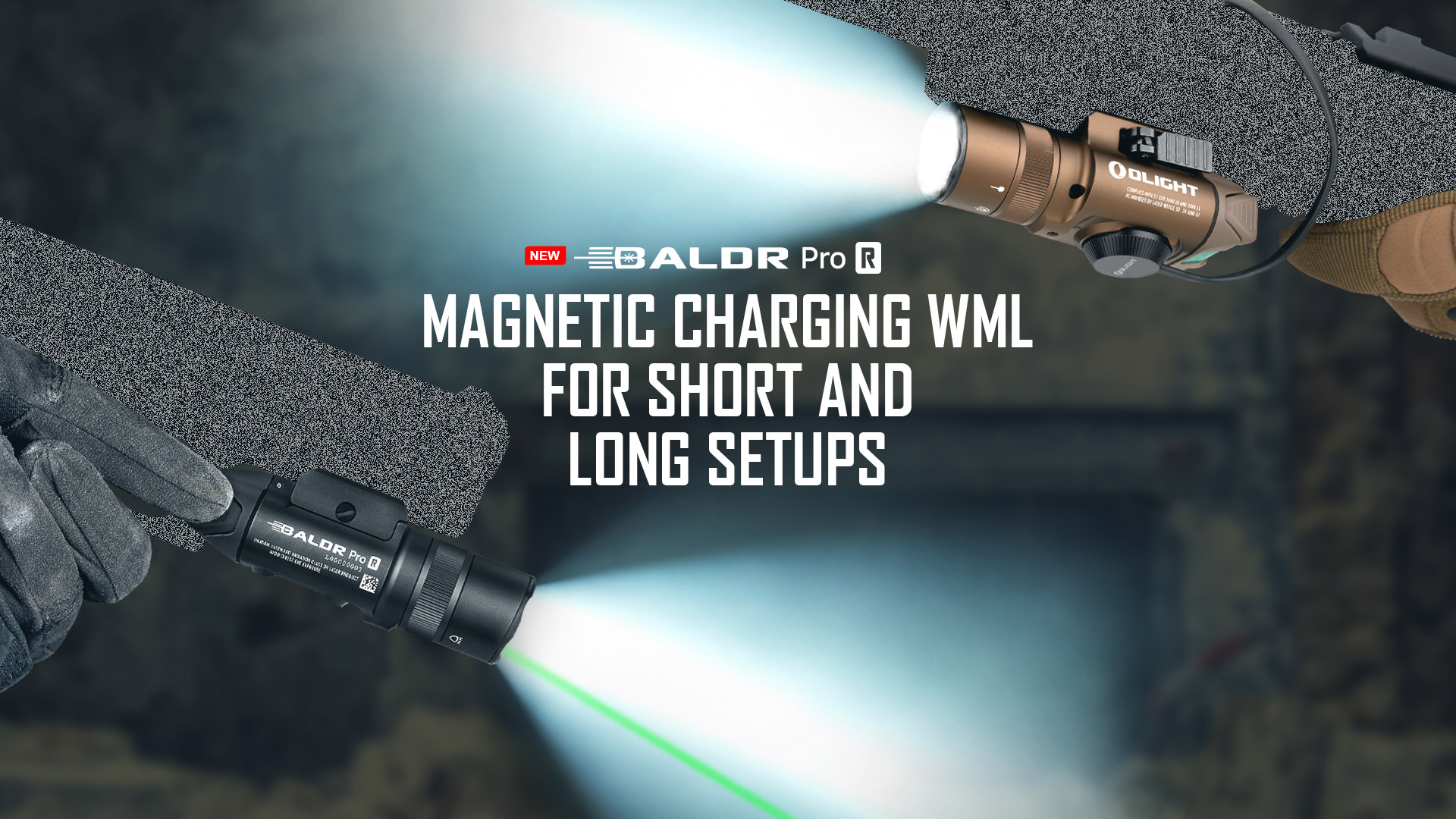 Note: Please unlock it before using.
Unlock: Press the two buttons at the same time (for more than 2 seconds) until the output brightness becomes ( LED, LED&LASER option), then the light is unlocked.
BRAND HISTORY
Light Source
High Performance CW LED
Max Light Intensity (Candela)
10,000
Compatible Batteries
3.6V 1000mAh Rechargeable Lithium Polymer Battery (Built-in)
Charging Type
USB Magnetic Charging
Max. Performance (lumens)
1,350
Light Mode 1 (lumens)
1,350~500~300
Run-time LEVEL 1
1.5+38+10
Light Mode 2 (lumens)
300
Technical Characteristics
Use
Self-defense,Law Enforcement,Tactical
LED
High Performance Cool White LED
Body Diameter (mm / in)
1.34in/34.1mm
Head Diameter (mm / in)
1.44in/36.6mm
Weight (g / oz)
4.44oz/126g (Including Battery)
●
BALDR Pro R (Battery Built-in) x 1
●
Picatinny (MIL-STD-1913) Rail Mount Adapter x 1
●
MCC 1A USB Magnetic Charging Cable x 1
TECHNICAL CHARACTERISTICS
Length (mm/ in)
3.74in/95mm
Chronological Order
|
Default Sort Order
| File Name | Size | Link |
| --- | --- | --- |
| Manual_BALDR Pro R .pdf | 1157KB | |