Watch the video below to know more details about Baldr Pro R
✔ The BALDR Pro R is the new rechargeable flagship product of the Baldr Series.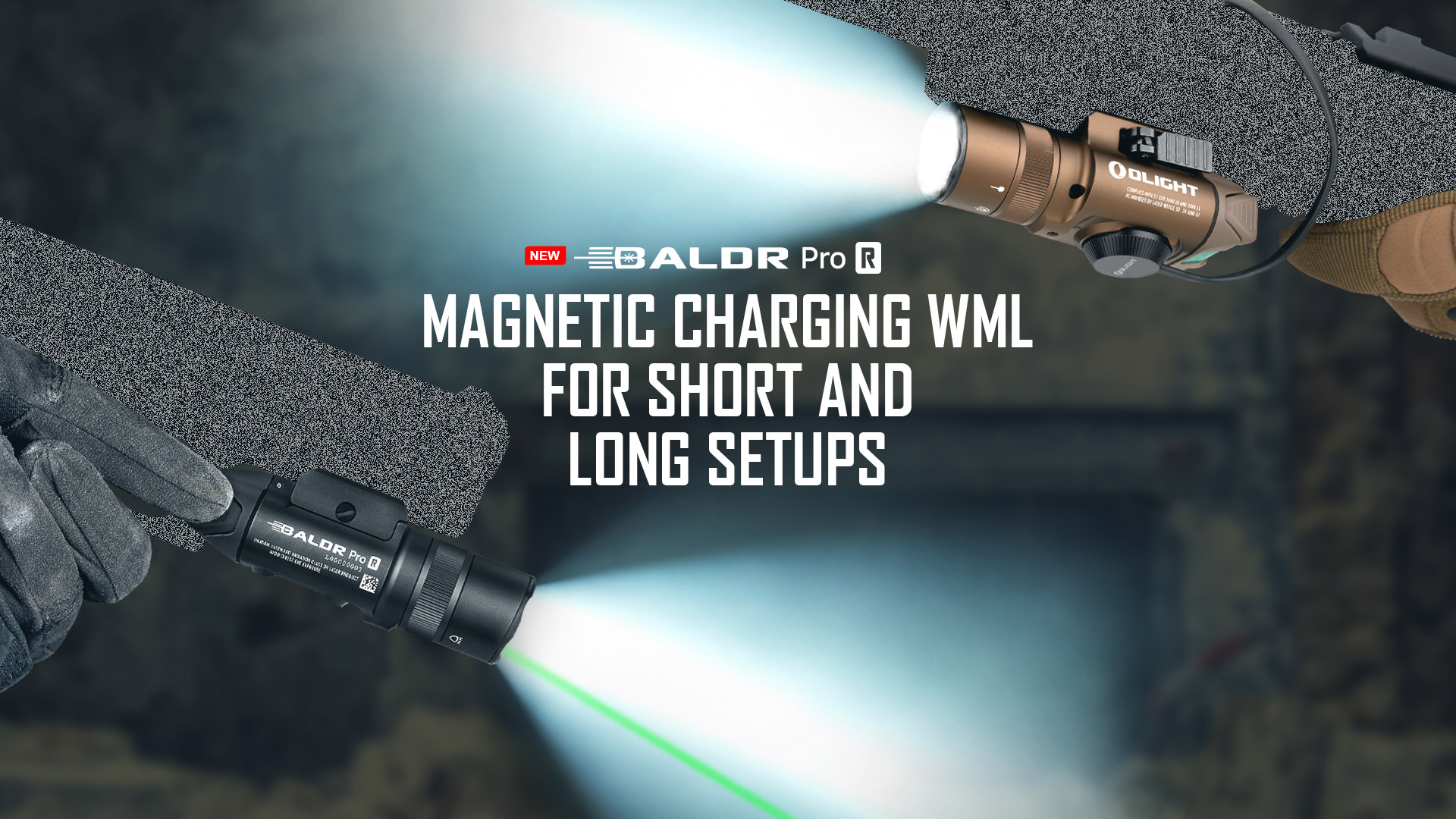 ✔ It boasts a white light of max 1,350 lumens like the Baldr Pro, but also adds a GL beam (<5mW) for quick and accurate aiming.
✔ The GL beam emitter is integrated into the head of the light. This design leaves room for the charging port on the bottom of the light and supports a remote pressure switch.
✔ The selector ring around the head allows you to easily choose between white light only, white light & GL beam combo or GL beam only.
✔ Powered by a 3.6V 1000mAh lithium polymer battery that can be recharged via the magnetic charging cable, this WML runs up to 93 minutes after being fully charged.
✔ The Baldr Pro R includes two types of rail adapters to fit both Glock and Picatinny rails. With the quick-install system, you can easily attach and detach the light to your self-defense setups.
✔ The well-tested adjustable screws allow for easy zeroing and can withstand strong impacts without loosening.
✔ The ambidextrous rear switches allow for quick on/off or direct access to strobe.
✔ Powerful, precise, and versatile, the Baldr Pro R is an ideal addition to your setups.
Note: Please unlock it before using.
Unlock: Press the two buttons at the same time (for more than 2 seconds) until the output brightness becomes ( LED, LED&LASER option), then the light is unlocked.
Olight Promise
Max. Performance (lumens)
1,350
Charging Type
USB Magnetic Charging
Compatible Batteries
3.6V 1000mAh Rechargeable Lithium Polymer Battery (Built-in)
Max Light Intensity (Candela)
10,000
Light Source
High Performance CW LED
Light Mode 1 (lumens)
1,350~500~300 lumens (Gream Beam on)
Run-time LEVEL 1
1.5+38+10 minutes
Light Mode 2 (lumens)
300 lumens(Green Beam on)
Run-time LEVEL 2
85 minutes
Technical Characteristics
Weight (g / oz)
4.44oz/126g (Including Battery)
Length (mm / in)
3.74in/95mm
Head Diameter (mm / in)
1.44in/36.6mm
Body Diameter (mm / in)
1.34in/34.1mm
LED
High Performance Cool White LED
Use
Self-defense,Law Enforcement,Tactical
●
Picatinny (MIL-STD-1913) Rail Mount Adapter x 1
●
BALDR Pro R (Battery Built-in) x 1
●
MCC 1A USB Magnetic Charging Cable x 1
| File Name | Size | Link |
| --- | --- | --- |
| BALDR Pro R User Manual.pdf | 1157kb | Preview |