The Baldr Pro is a professional lighting tool with green laser sight and white LED for installation on equipment with a Pic (MIL-STD-1913) or Glo rail. Powered by two CR123A batteries, the max output of the BALDR Pro is 1350 lumens.
✔ Impressive Green Laser
A professional lighting tool with a green laser sight.
✔ Super Bright LED
With 1,350 lumens and 260 meters beam distance.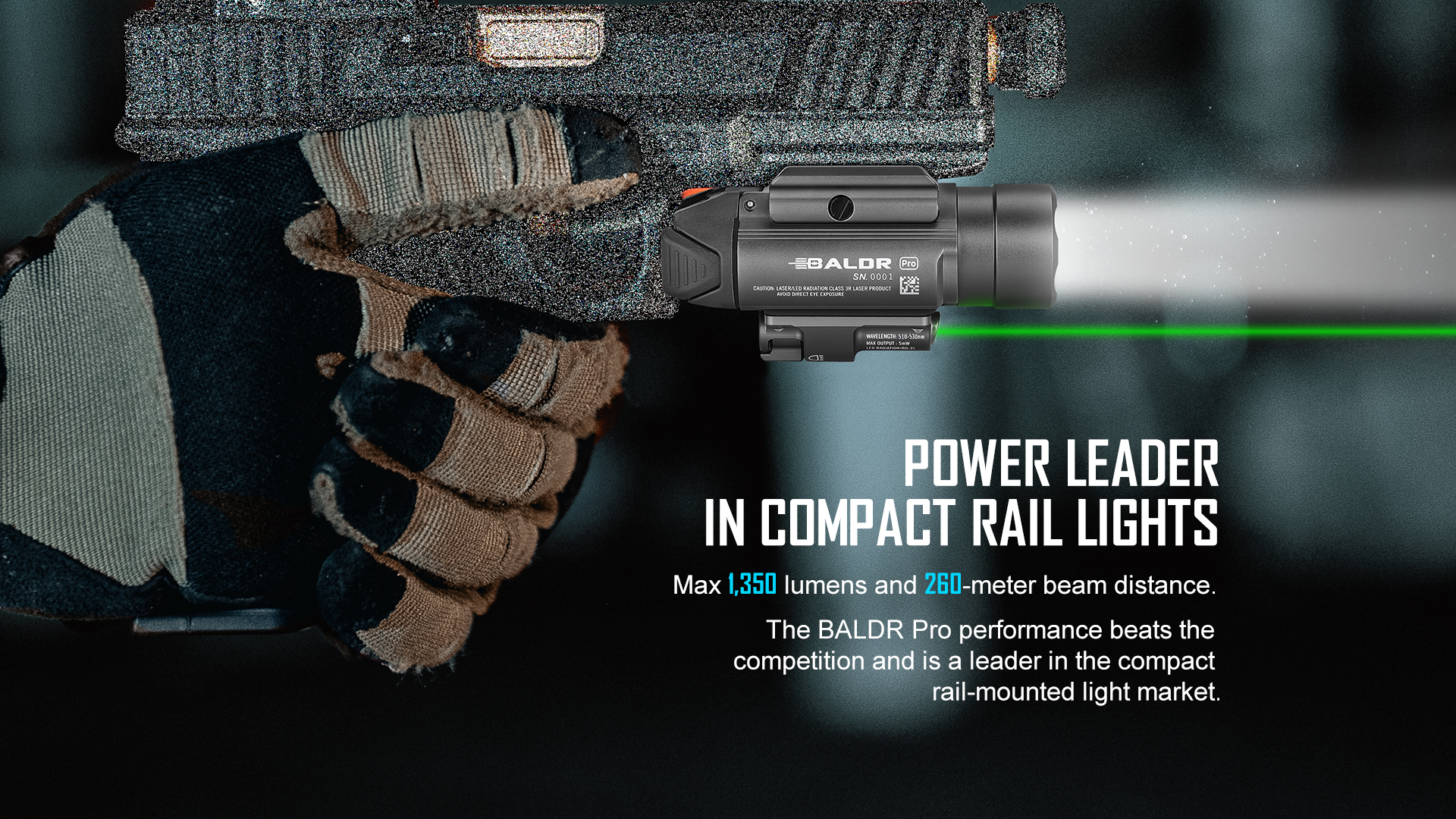 ✔ Dual lights modes for your need
The cool white LED and TIR lens makes for a robust searchlight.
✔ Quick operations with exquisite design
Easy to install and detach the light by pressing or loosening the side swing arm.
✔ Adjustable and Easy Operation
Powered by two CR123A batteries, and equipped with adjustable screws.
✔ Ambidextrous Switch
Quick access to strobe by pushing both sides simultaneously.
✔ Suitable for your varied need
Take a look at the following pictures to get more details.
OLIGHT PROMISE
Beam Distance (ft)
853 ft
Max. Performance (lumens)
1,350 lumens
Charging Type
Option Charger
Compatible Batteries
CR123A Battery x 2 (Included)
Max Light Intensity (Candela)
16,900 candela
Light Source
One High Performance Neutral White LED
Form/Size Factor
Medium Size (Permanent Maker)
Technical Characteristics
Weight (g / oz)
4.55 oz (129 g)
Length (mm / in)
3.30 in (84 mm)
Head Diameter (mm / in)
1.44 in (36.5 mm)
Body Diameter (mm / in)
1.75 in (44.5 mm)
Use
Self-defense, Law Enforcement, Tactical
Light Mode 1 (lumens)
1,350~500 lumens
Run-time LEVEL 1
1 minutes + 115 minutes (Laser ON) 1 minutes + 125 minutes (Laser OFF)
Light Mode 2 (lumens)
300 lumens
Run-time LEVEL 2
210 minutes
●
T6/T8 Socket Head Wrench x 1
●
3V 1600mAh CR123A Battery x 2 Picatinny (Mil-std-1913)