Warrior Mini 2
The Warrior Mini 2 is the brand-new upgraded version of the previous Warrior Mini, and one of the most powerful compact tactical lights on the market.
✔ Selected for your need
Black and Desert Tan are both famous colors in our store.
✔ Enhanced user safety
Built-in proximity sensor that drops brightness to protect against any nearby objects while turned on higher modes.
✔ Powerful beyond the size
Maximum output of 1,750 lumens with a 220-meter beam distance. 17% brighter and 16% further throw than the previous Warrior Mini.
✔ Dual switches
A side switch to select six different modes during daily use, and a dual-stage tail switch for tactical operation.
✔ Large-capacity battery
Customized 3500mAh battery which charges with the included MCC3 magnetic charging cable for extended runtimes.
✔ Designed for everyday carry
A compact light featuring a two-way pocket clip, detachable lanyard clip, and a carabiner-style ring (not for climbing) for multiple carry options.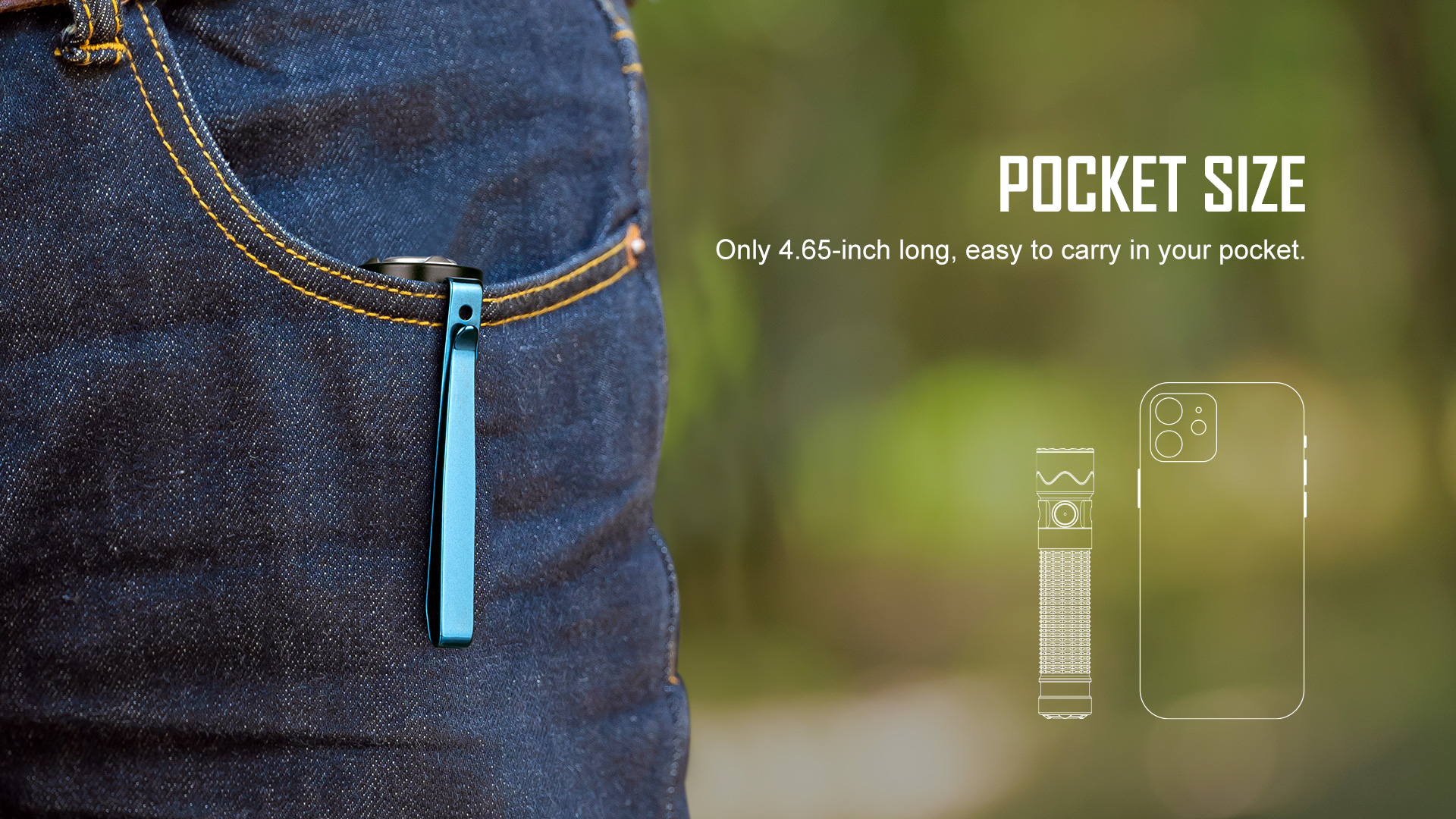 ✔ Packed with features
Refined strike bezel, battery level indicator, lockout mode, IPX8 waterproof rating, and so much more!
i5R
The i5R EOS is the rechargeable version of i5T EOS, one of our most popular tail-switch EDC flashlights. It adopts a customized 1420mAh Li-ion battery with an integrated USB Type-C interface for charging. The high-performance LED, paired with a PMMA lens, produces a soft and balanced beam up to 350 lumens. Like the i5T EOS, it features a tail switch, aerospace grade aluminum alloy body, unique double helix knurling, and a two-way pocket clip. The i5R is the perfect upgrade with higher performance and a rechargeable design.
Baton 3 Limited Edition
TAKE YOUR POCKET LIGHT UP A NOTCH
A meaningful upgrade from the S1R Baton II, our currently most popular pocket light.
IMPROVED EFFICIENCY AND RUNTIME
The Baton 3 boasts a max runtime of 20 days and 3.7 times more with the Premium Edition.
A CUSTOMIZED POWER BANK FOR BATON 3
Tailor-made for Baton 3. It takes in power via the popular Type-C port and pumps out power via a magnetic port, making charging a breeze.
WIRELESS CHARGING ON THE GO
CHARGE 3.7 TIMES BUILT-IN 3500mAh BATTERY
Small, portable and wireless, the charger works well while put in your backpack or pocket.
Open Pro
✔ Present With Ease

Whether you're writing, reading, or pointing out in a presentation, the OPen Pro's innovative 3-in-1 design including a pen, green laser, and a light will have you covered.
✔ Better Writing Experience
The upgraded refill makes for a smoother writing experience.
✔ Smooth L-type Bolt Action Operation
Single bolt swing to access or recess the pen tip. Quickly tap up once to turn on the LED. Slide up and hold to activate the pointer.