Advantages
The Seeker 3 Pro is an ultra-bright floodlight flashlight great for outdoor activities. Its 4 high-performance cool white LEDs boast an incredible max output of 4,200 lumens and a 250-meter beam distance. The newly adopted rotary knob switch on the head allows for smooth adjustment between brightness levels. Surrounding the rotary knob are the indicators to reveal the brightness and battery levels in real time. The built-in proximity and thermal sensors keep the light and nearby objects safe on higher settings. Continuing with its classic style, the Seeker 3 Pro is more powerful, way brighter, and packed with new refinements that make it one of the most well-designed pocket lights out there.The MCC3 magnetic charging cable allows for up to 2A charging current.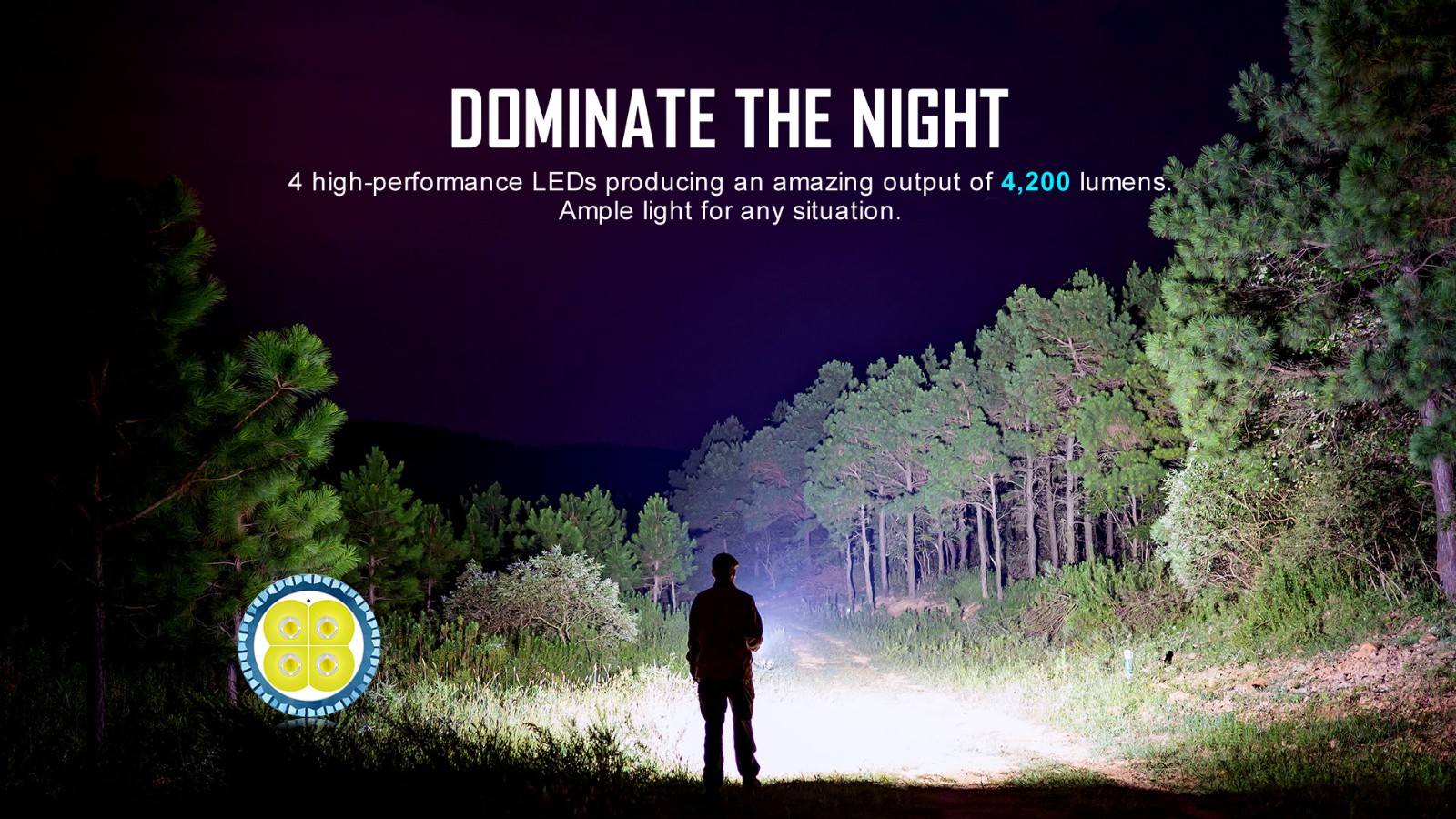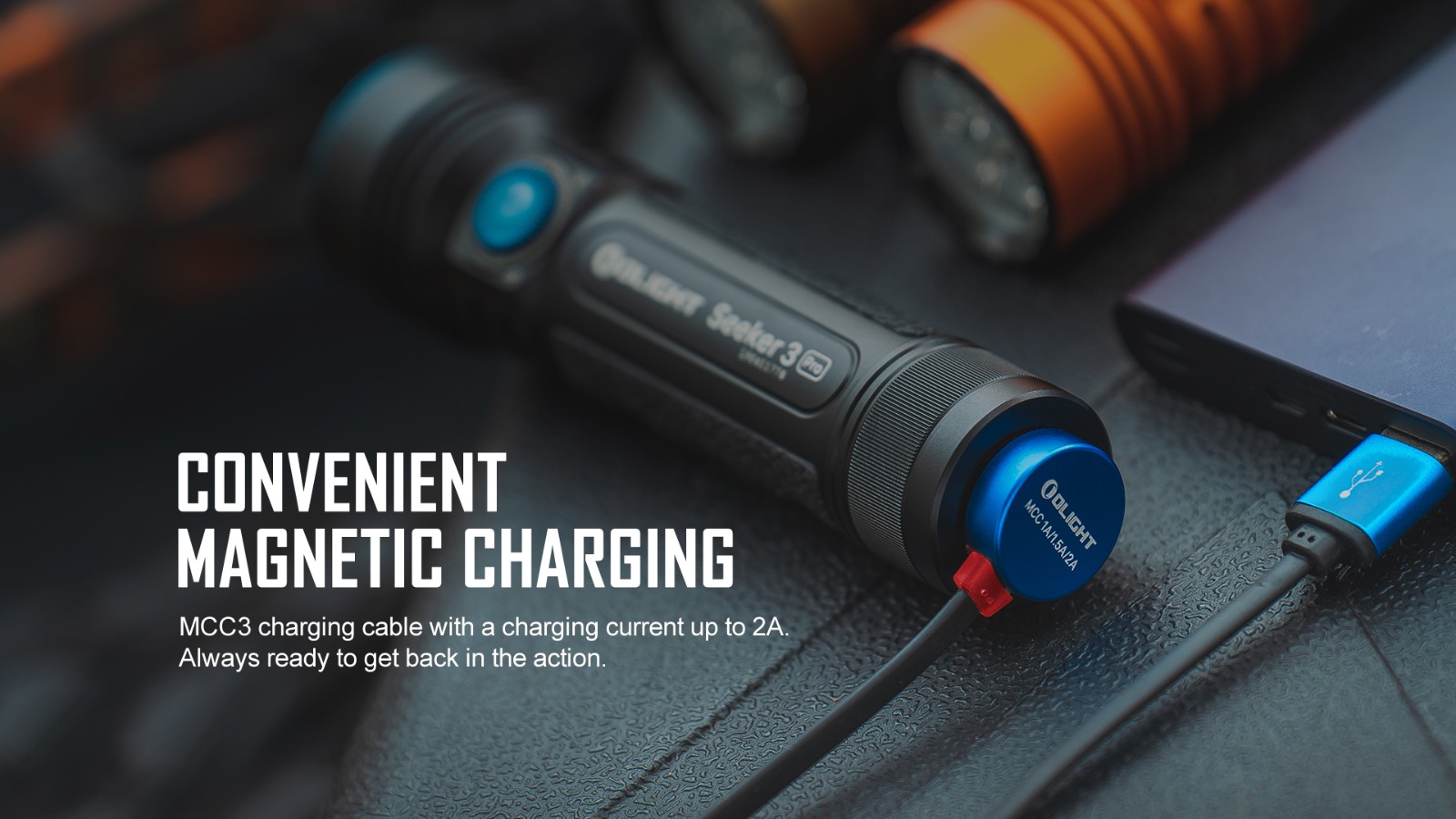 FAQ
1.Does the Seeker 3 pro include a flashlight bag?
Yes, it is already included
2.How to change the Strobe mode?
Quick triple tap or three or more consecutive presses of the side button.
3.How to change the Turbo mode?
Quickly double-click to enter Turbo mode, double-click again to return (if the memory is above average brightness, it will revert to mid-range).
4.How long does it take to fully charge the Seeker 3 Pro?
Standard MCC 3 magnetic charging cable, the maximum charge current is 2A, the full voltage is 4.2V ± 0.05V, and only need 4.5 hours to fully charge.
5.Why are the lumens of the seeker 3 pro brighter but the range doesn't change?
The range depends mainly on the reflective surface.
6.The battery of the Seeker 3 pro and the Seeker 2 pro is the same, why does the Seeker3 pro have a longer battery life than the Seeker 2 pro?
The Seeker 3 pro has 4 lights and the driving current should be small.
Light Source
4 x High Performance LED (6000~7000K)
Compatible Batteries
Customized 3.6V 5000mAh 21700 Lithium-ion Battery
TECHNICAL CHARACTERISTICS
Length (mm/ in)
132mm/5.20in
Light Mode 1 (lumens)
4,200-1,200-600 lumens
Run-time LEVEL 1
2.5+127+35 minutes
Light Mode 2 (lumens)
1,200-600-300 lumens
Run-time LEVEL 2
135+35+10 minutes
Light Mode 3 (lumens)
300 lumens
Run-time LEVEL 3
640 minutes
Light Mode 4 (lumens)
50 lumens
Run-time LEVEL 4
55.5 hours
Light Mode 5 (lumens)
5 lumens
Technical Characteristics
Body Diameter (mm / in)
28mm/1.10in
Head Diameter (mm / in)
35mm/1.38in
Weight (g / oz)
7.06oz/200g (Including Battery)
●
Seeker 3 Pro (Battery Included) x 1
●
MCC3 USB Magnetic Charging Cable x 1
| File Name | Size | Link |
| --- | --- | --- |
| Manual_Seeker 3 Pro.pdf | 1507KB | |