More Details about Warrior mini 2
The Warrior Mini 2 is the brand-new upgraded version of the previous Warrior Mini, and one of the most powerful compact tactical lights on the market.
✔ Enhanced user safety
Built-in proximity sensor that drops brightness to protect against any nearby objects while turned on higher modes.
✔ Powerful beyond the size
Maximum output of 1,750 lumens with a 220-meter beam distance. 17% brighter and 16% further throw than the previous Warrior Mini.
✔ Dual switches
A side switch to select six different modes during daily use, and a dual-stage tail switch for tactical operation.
✔ Large-capacity battery
Customized 3500mAh battery which charges with the included MCC3 magnetic charging cable for extended runtimes.
✔ Designed for everyday carry
A compact light featuring a two-way pocket clip, detachable lanyard clip, and a carabiner-style ring (not for climbing) for multiple carry options.
✔ Packed with features
Refined strike bezel, battery level indicator, lockout mode, IPX8 waterproof rating, and so much more!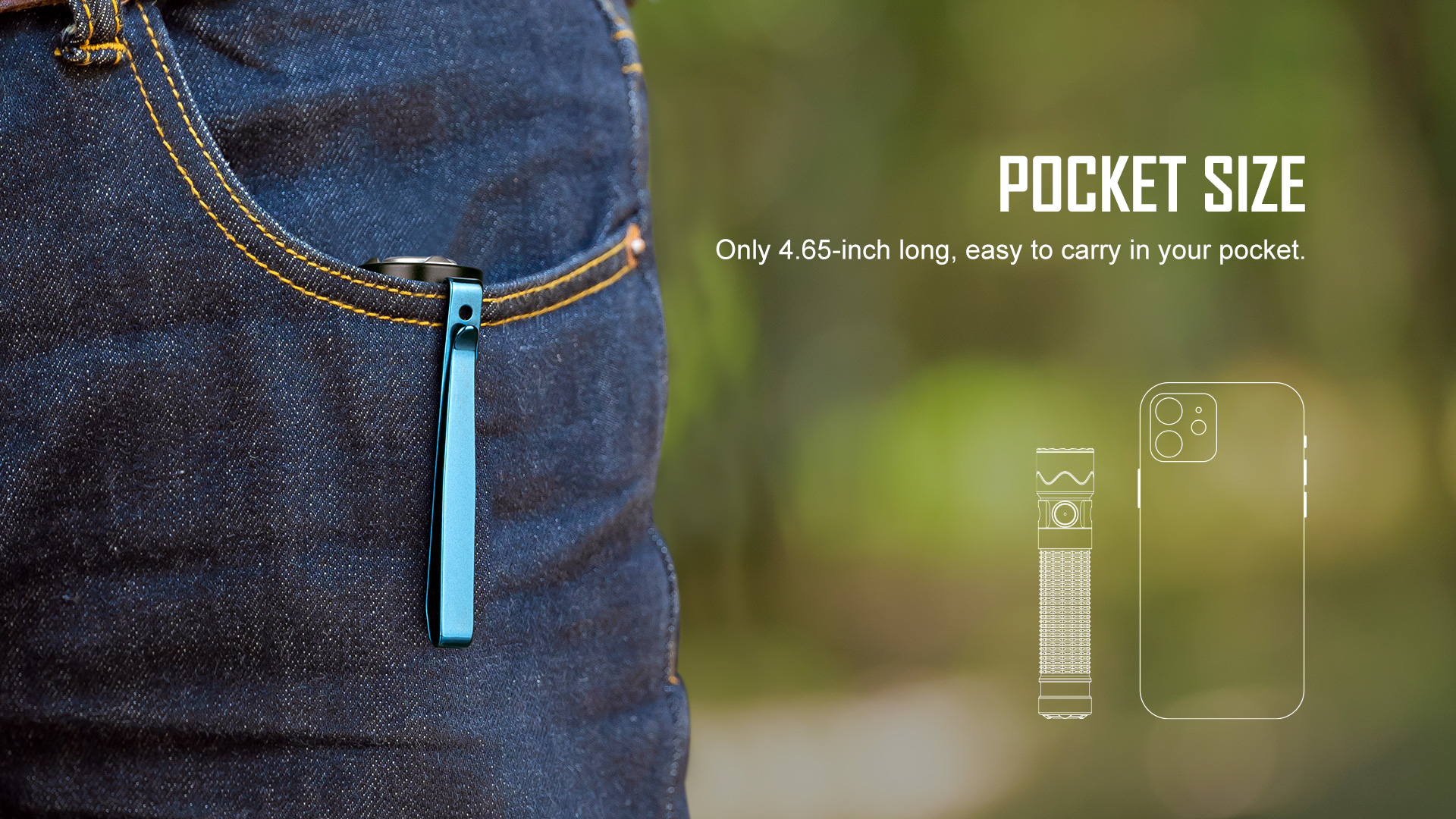 FAQ
1.Q: Will the Warrior Mini 2 work also with standard 18650 cells or are customized Olight cells required for it to work?
A: It is recommended that customers use the 18650 customized battery to maximize the performance of the product and avoid damage to the product.
2.Q: Are any of the red/green filters and pressure switches compatible with the Olight Warrior Mini 2?
A:Olight doesn't have filters and pressure switches for Warrior Mini 2.
3.Q: The proximity sensor will shut the light off after 1 minute if something is blocking the front of the light. Is this only for the higher outputs? Or will this turn the light off after a minute if the side switch accidentally gets pushed in my pocket and one of the lower modes turns on? Also, if I activate lockout mode, will this only lock the side switch? Or will it lock the tail switch as well?
A: The warrior mini 2 will reduce the brightness from the Turbo setting when it senses an obstruction to provide a sense of safety and dependability. If the light is under lockout mode, the side switch red light will turn on no matter if you click the side or tail switch.
OLIGHT PROMISE
Beam Distance (ft)
722 ft
Max. Performance (lumens)
1,750 lumens
Charging Type
MCC3 Mgnetic USB Charging Cable
Compatible Batteries
Customized 3500mAh 3.6V 8650 Rechargeable Battery
Max Light Intensity (Candela)
12,300 candela
Light Source
High Performance LED (6000~7000K)
Form/Size Factor
Compact Size
Series
Series Warrior(EDC, Tactical)
TECHNICAL CHARACTERISTICS
Length (mm/ in)
4.65 in (118 mm)
Light Mode 1 (lumens)
Turbo: 1,750~500~200 lumens
Run-time LEVEL 1
4 + 206 + 40 minutes
Light Mode 2 (lumens)
High: 500~200 lumens
Run-time LEVEL 2
218 + 55 minutes
Light Mode 3 (lumens)
Med: 120 lumens
Run-time LEVEL 3
19 hours
Light Mode 4 (lumens)
Low: 15 lumens
Run-time LEVEL 4
164 hours
Light Mode 5 (lumens)
Moon: 1 lumens
Strobe
Yes, 1,750 lumens, 13Hz
Technical Characteristics
Weight (g / oz)
4.3 oz (122 g) (Including Battery, Pocket Clip, Lanyard Clip )
Head Diameter (mm / in)
0.98 in (25 mm)
Body Diameter (mm / in)
0.91 in (23 mm)
LED
TIR Optic Lens & Protective Glass Lens
Use
Everyday Carry, Outdoors, Self-defense, Tactical Use
●
Warrior Mini 2 (Battery Included) x 1
●
MCC3 Magnetic USB Charging Cable x 1
●
Two-Way Pocket Clip x 1
●
Carabiner-Style Ring x 1
Chronological Order
|
Default Sort Order
| File Name | Size | Link |
| --- | --- | --- |
| Manual_Warrior Mini 2.pdf | 1411KB | |