✔ Professional Rail-Mounted LEP Tactical Light
As a Class 1 LEP light, the Odin Turbo produces a 1,050-meter/275,625-candela beam with nearly no spill, based on 330 lumens of output.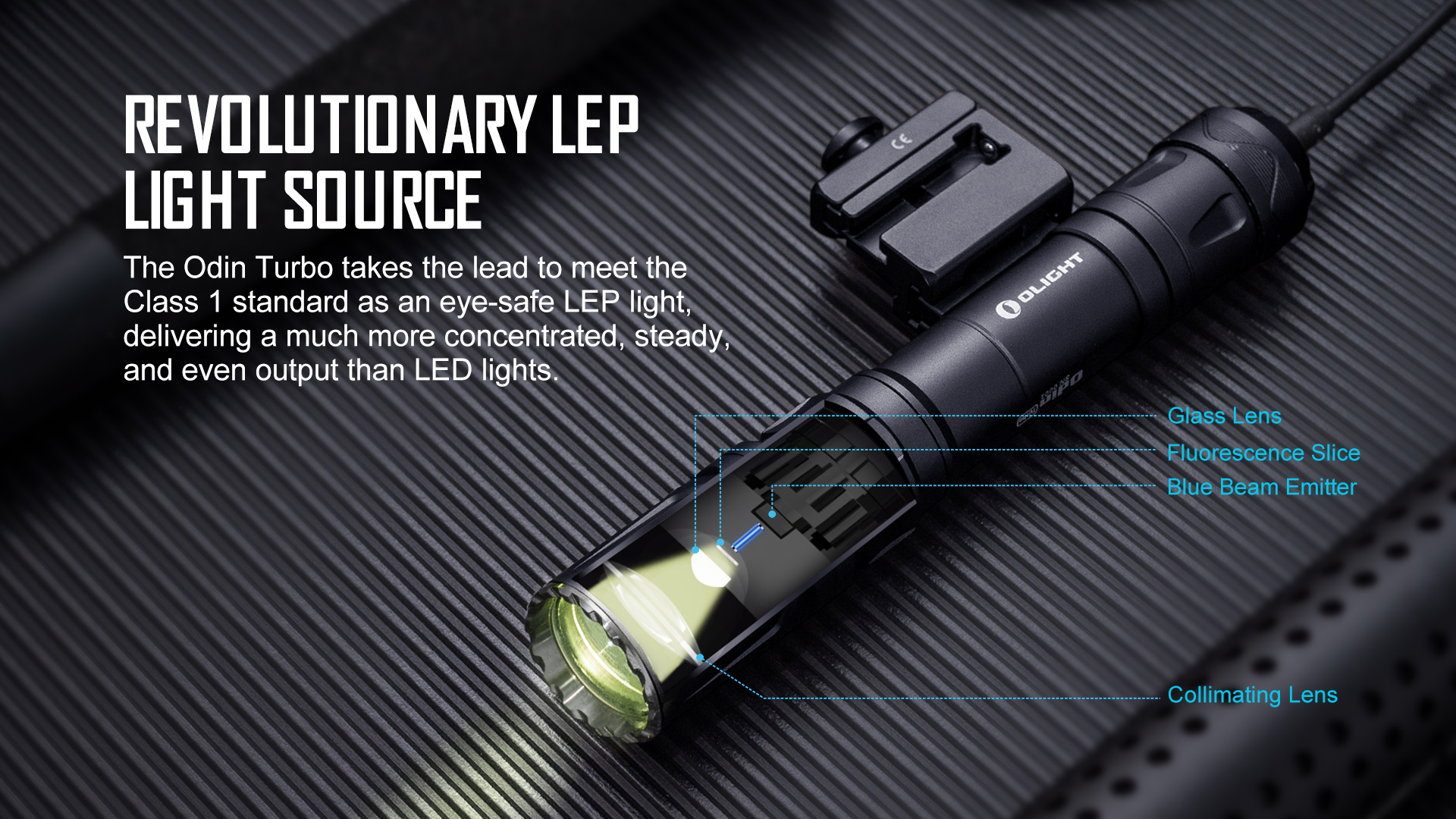 ✔ M-L And PICA Compatibility
Convenient PICA mounts with a mechanical lock, ensuring a quick and sturdy attachment. (M-L rails require an optional M-L mount.)
✔ Revolutionary push-to-lock switch
Innovative push-to-lock magnetic remote switch (Utility Patent No.: US10670252B1) for a swift and tight fit with the tail cap.
✔ Pocket Sized But Huge Output
Powered by a single customized 5000mAh 21700 battery that is rechargeable via the included MCC3 magnetic USB charging cable.
✔ Multi-function Tailcap
Multifunctional tailcap: magnetic charging, tactical handheld operation, and remote switch compatibility.
✔ Vibration battery alert
Vibration battery indicator activated when the battery level is below 20%. Without a glance, know if your battery level is low.
Power<20% vibrate once every 5 minutes;
Power<10% vibrate once per minute;
Power< 5% vibrate once every 10 seconds.
OLIGHT PROMISE
Beam Distance (ft)
3,444 ft
Max. Performance (lumens)
330 lumens
Charging Type
MCC3 Magnetic USB Charging Cable
Compatible Batteries
Customized 5000mAh 3.6V 21700 Rechargeable Lithium Battery (Included)
Max Light Intensity (Candela)
275,625 candela
Light Source
High Performance LEP (4,500~5,000K)
Form/Size Factor
Medium Size
TECHNICAL CHARACTERISTICS
Length (mm/ in)
6.10 in (155 mm)
Light Mode 1 (lumens)
330~180~90 lumens
Run-time LEVEL 1
30 minutes + 150 minutes + 30 minutes
Light Mode 2 (lumens)
90 lumens
Run-time LEVEL 2
7.5 hours
Technical Characteristics
Weight (g / oz)
8.78 oz (249 g) (Including Battery)
Head Diameter (mm / in)
1.22 in (31 mm)
Body Diameter (mm / in)
1.05 in (26.6 mm)
Use
Self-defense, Law Enforcement, Tactical Use
●
Magnetic Remote Switch (With Stand) x 1
●
MCC3 Magnetic USB Charging Cable x 1
●
PICATINNY Rail Mount x 1
●
Odin Turbo (Battery Included) x 1
Chronological Order
|
Default Sort Order
| File Name | Size | Link |
| --- | --- | --- |
| Manual_Odin turbo.pdf | 971KB | |